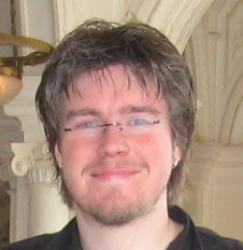 Peter
Webmaster
R.I.P. Gene Colan (1926 - 2011)
zo 29 januari 2012 22:10:59
Last year we lost several prominent comic creators. Some were too young, others had seen quite a lot of the world. For one, however, I wrote a small piece about his passing away for the Broken Frontier website. You can find the original piece here.
One of the greatest artists in the world of comics has passed away. None other than Eisner Award winner Gene Colan succumbed to liver problems and cancer while in a coma following a fall. Gene Colan was an amazing artist who defined and created many iconic characters during his time at both Marvel and DC Comics.
He was especially known for his long runs on both Daredevil (starting September 1966 until June 1973) and the classic The Tomb of Dracula (running from April 1972 until Agust 1979) together with writer Marv Wolfman. Another notable series is that of the Eagle Award winning Howard the Duck with writer Steve Gerber. The adventures of the alienated waterfowl were handled with certain coolness and its own brand of humor that many readers enjoyed.
Colan was also responsible for the creation of the first African American superhero, The Falcon, together with then writer/editor Stan Lee.
For over sixty years, his career officially began in 1944 at publisher Fiction House, he managed to both write and draw comics and put his own unique style into every single one of them. Heroes like Captain America, Batman, Iron Man and Wonder Woman came to life not only through their expressions, but also through the unique layouts that he used. His style was his own, evident of his mastery in shadow and lighting, but mostly due to his dramatic form.
In the 1980's, Colan once again collaborated with Marv Wolfman for the DC series Nathaniel Dusk. Dusk employed a completely new style, where the colors were placed directly over the pencils so no inking was involved. This gave the detective noire series, a genre he enjoyed very much, a more raw impact befitting the story.
His entire body of work is commendable, earning him various awards, but he received one of the highest commendations just last year. Both he and writer Ed Brubaker won The Will Eisner Comic Industry Award for Single Issue for their excellent work on Captain America #601.
Other notable series and superheroes he worked on were Marvel's Doctor Strange and Silver Surfer and DC's Night Force and Spectre.
His sweeping cinematic style became an inspiration for many and it was no wonder that his name would be placed in the Eisner Hall of Fame, making sure that the legendary artist will always be remembered by future artists. He will be missed.
Comics

> More tweets