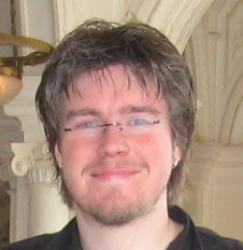 Peter
Webmaster
Concept art lead character
di 17 augustus 2010 13:06:11
Thanks to the help of Dreamchaser Art, you can find her site here, an amazingly talented Dutch manga-artist, the lead character in one of my stories received his final looks. I'll keep the story unnamed at this point, since I might be inclined to pitch it somewhere in the future. I can only say that his name is Michel and he has a very important role within the universe I created. The universe itself encompasses an anime-series and I've written down ideas for three different games across several platforms.
I wanted the style to be similar to Gundam SEED, which I am a huge fan of. But I also wanted it to be strong on it's own and I think she did a great job. Michel will have black hair, but it's easier to portray his hair this way from what I understand. I'm not much of an artist since I've kept myself to writing only, but I guess I can understand.
The lion in the patch on his left arm is similar to the one used in my native country, The Netherlands. The uniform will probably feature the colors white, light blue and orange.
He will not be the only one to feature and I hope to have more art in the future.
Games, Media, Nintendo, Playstation, Series

> More tweets