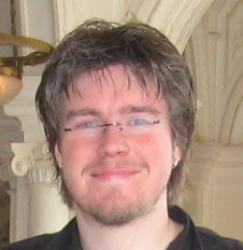 Peter
Webmaster
Fanfic Friday - Champions Online 1
vr 01 oktober 2010 18:26:06
Doing the Mass Effect story takes a little more time, but that one will pop-up soon enough. However, I do have another scenario for everyone. Again, this one is done in a comic-book style, and unfortunately I don't have a good artist yet to really make it come to live.
Not to worry, you can get a general idea as to how the characters will look like since I already created them using the pretty extensive Champions Online character creator. It not only allows you to build pre-existing superheroes like Wolverine or animé characters like Goku (throw in a bit of Darth Vader and you have Darth Gokuverine), but also to create fairly original ones. Like, for example, my first ever character who I created the first time I started up the beta and still exists; Shadow Wolf.
Shadow Wolf is a mutant, although his mutant powers aren't that strong. He has wolf-like hearing, sight and smell, even a yellow eye, and through his rich upbringing he mastered the bow and arrow. His accuracy is off the charts so he implied a self-ban on any championships. His body is not that strong so he uses a specially crafted suit. He also uses gadgets with his arrows courtesy of the British company that has run in the family for many years. Though he's not good on a technological level, he is the ideal person to test out the latest gadgets and provide feedback on them.
He also provides gadgets and suits to other people, like George Foswell, a retired police officer chasing after his no good nephew Freddy Foswell. George wears a white, with green chalkline, suit and fedora and relies on the gadgets he gets delivered by Trevelco. He is after his nephew ever since he decided to become the "evil" Foxbat. The latter is mostly harmless, but still a nuisance. Although, as luck would have it, the clumsiness seems to run in the family. George can screw up as much as Foxbat does.
Another character I've introduced in the scenario posted below, is Bolter. Another character that survived since the beta and even had his sexual preference changed due to a glitch in the said beta of the game. Yes, he is gay. He is also someone who received his powers due to a scientific method, fusing his DNA with enhanced electrical particles causes him to control electrical currents. He can also run with the speed of light due to his affliction. Bolter can usually be seen in a blue and yellow outfit. Sometimes even with blinding lights.
The final character for now is Green Skull, one of my latest creations. He uses infernal energies to devour the essence of others in orde to render them harmless for a time. You can read more about him and his possible nemesis (he needs to become level 25 in the game in order to get one) in the comic-scenario I posted.
You can check the accompanying screenshots to get a general idea of the heroes' looks.
Hope you enjoy the short story.
Champions Online Comic #1 (Test-pages)
PS: I also did some roleplaying with Shadow Wolf within the game. Even joined a, seemingly shortlived Supergroup called The Paladins. Was a lot of fun and gave me some great ideas for the possible comic.
Comics, Games, PC

> More tweets