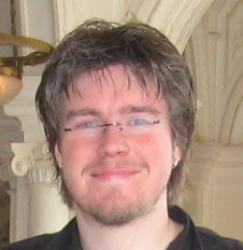 Peter
Webmaster
Eye For Games Interview: Tom Galt
zo 29 januari 2012 13:53:26
A little while ago we managed to secure an interview with the lead designer for The Darkness II, Tom Galt. He spoke very openly about the challenges he faced during development, how he got to where he is now and what influenced the latest title created by his studio.
Games, PC, Playstation, Xbox
> Read more
Fanfic Friday - Champions Online 1
vr 01 oktober 2010 18:26:06
As stated before, I've decided to dedicate my Friday postings to the concept of fanfiction. Now, don't expect Harry Potter or Twilight stories where the men hook up (WTF is wrong with people?), and don't expect porn in general. I save the intense sex-scenes for my original work. :p Anyway, today I wanted to do post an original story set in the Mass Effect universe, but that one is backed up for a bit. So, another comic based on an MMO I play, only this one still lives: Champions Online.
Comics, Games, PC
> Read more

> More tweets